Cruising the Columbia...
Welcome!
Recipes!
The Page is New and Improved; the family is still so...so...
Actually, the Family is great! Raising four boys, Dennis and Bert have acquired tremendous knowledge and insight into family dynamics, interpersonal relationships, and stuff like that, but we're not going to bore you with that on this web page.
What do we have on this page that might interest someone? Have kids? Ever tried to take them on a trip? In an effort to provide something resembling content, here's a link to Bert's "I Need A Vacation!" trip planning list. Now you never have to worry about forgetting something important. (You may still forget it, but you don't have to worry about it!)
---

According to the US Naval Observatory (and they should know!) the time in Lakeview, Oregon is:
Sometimes it seems their atomic clock is a little slow. If it doesn't look right, try reloading the page and see if that helps.

The automated weather station across the street says our weather is...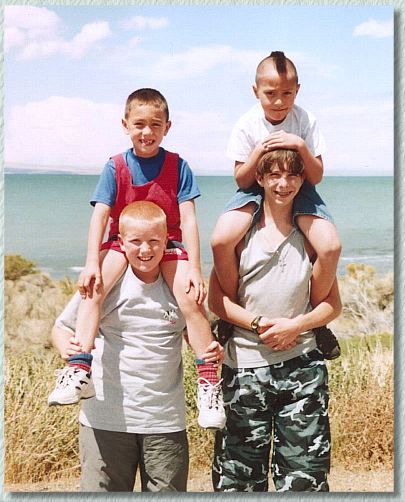 ---
If you click on this picture of the boys you'll see another!
---







---

This web site is maintained by Dennis Griffin. Send him your comments!