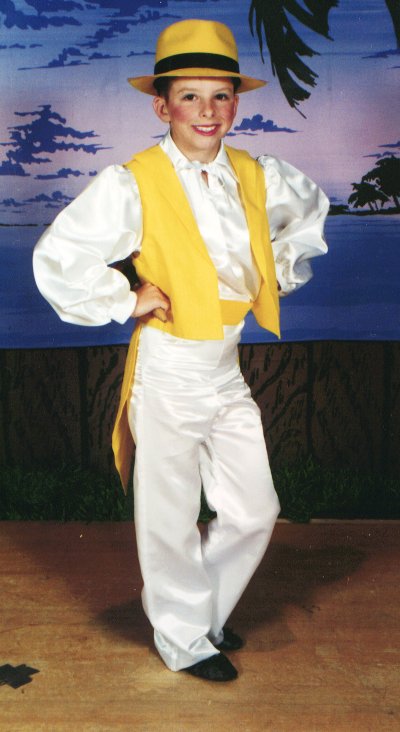 Once again, we have delayed publication of our newsletter while we await word on Aaron and Andrew's status. During the past year, the parental rights were terminated, we waited while that decision was appealed, and waited some more for the state to get the adoption papers in order. But last week, we signed the petition to adopt and it should arrive on the judge's desk within the next few weeks. We plan to have a really big party and you're all invited!

Tommy and Stephen joined the swim team during the summer. This was the activity that parents dream of. It was full of challenges, good role models, a great peer group, lots of physical activity, out of town travel and both boys LOVED it. We can hardly wait to throw Aaron and Andrew into the pool. Both big boys seem really happy with life these days. Stephen is a cub scout, Tommy participates in an intramural sports program, and both boys are taking tap and jazz. Last spring, they got to play on the same minor league baseball team which was expertly coached by their parents.

It's very, very fun to be revisiting the threes and fours stage. Currently Darth Vader, THE Master of the Empire (alias Aaron) fully clothed in cape, helmet and boots, is residing here. He is a very polite and grateful Darth Vader. "Thank you for picking me up at daycare. Thank you for buckling me in my carseat. Thank you for this cough syrup." Andrew needs to know what is inside of everything. He asked Bert what was inside of his head. When she tried to explain about his brain, she was quickly interrupted and told that batteries were in there. Now we know where all that energy comes from! They, too, are dancing in a child's movement class.

We have occasional "Annie sightings". She is very busy taking dance, teaching dance, preparing for dance competition, and practicing and performing with the school dance team. She doesn't understand why she has to go to school (other than for the social life). All she needs to know is how to count to eight. "Ah, one, two, three, four, ..." She certainly has stretched her horizons here. She recently shot her first quail and is now begging for a shotgun for Christmas. Annie adopted a black lab puppy in March who has chewed her way through most of our belongings. Becca does love those boys, though. Andrew uses her for comfort when he can't find his blanket and she knows that she can always entice Stephen to roughhouse. She is also Davedog's personal trainer.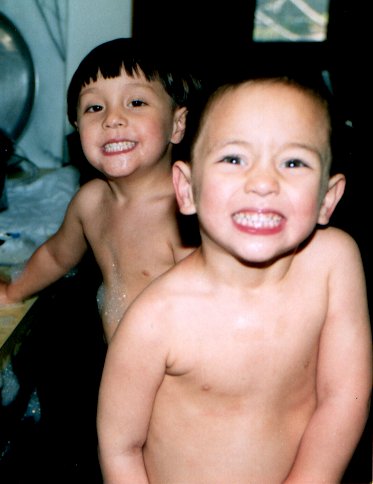 Bert, the Queen of After School Transportation, thinks an RV would be helpful so she could at least be cooking dinner while traveling around town. Just what she needs - another kitchen to clean! As a mother to the masses, she has learned to make progress while living in bedlam. She is used to being at everyone's beck and call. Her reaction reflexes are excellent and most days she feels a bit like a drill sergeant. These finely honed skills will be essential in her new career as a substitute teacher. Although she has more than enough to keep her busy at home, she thinks it will be good to have a little contact with the Outside World. Andrew and Aaron need more of a social life too. She can work when she wants, be home when the kids are and keep tabs on what's going on in those schools. Yes, she is also still tap dancing and is very grateful that Aunt Beck will be here to help her survive the dance recital in June.
Dennis can still be found either in the kitchen or the computer room. It's good to know some things never change. He recently has become Webmaster for the Fremont National Forest - the part of his job that you know he enjoys. You can plan your next vacation or generally waste some Internet bandwidth by visiting http://www.fs.fed.us/r6/fremont.
Annie was the first to make the dubious acquaintance of our newest neighbor. She came in one night wide eyed and white and said she had seen something on the edge of the road, but she didn't know what it was. Everyone at school gave her a bad time about her city imagination getting the best of her until one of our neighbors found a young cougar lying under his truck. Since then, one has been seen frequently near here and it even "attacked" a UPS truck when the driver stopped to watch it. We're not sure though if it's any safer in the house since we captured a black widow spider crossing the kitchen floor. Ah, the Wild West.
We Griffins will be spending the holidays at home while Annie flies back East. The house is wild with anticipation of Santa's arrival.
The seven of us hope that your Christmas will be filled with joy. On that day, as we do every day, we will once again count you among our many blessings.
Here are some more pictures!
Griffin Family Page